Discover more from Knyvet
News and notes from the Knyvet network, curated by Michael O'Connor Marotta.
Kooked Out harness the kinetic energy of life on debut album 'Vis Viva'
The animated Boston band make a colorful statement and soundtrack our summer with the cassette release on Friday, August 18
Cassette release party goes down that same night at The Worthen Attic in Lowell

NOW PLAYING: Listen to 'Vis Viva' on Bandcamp x Spotify

Photo Credit: Christine Paige Photography

HOMEPAGE  .  SPOTIFY  .  BANDCAMP  .  INSTAGRAM  .  FACEBOOK  .  TWITTER  .  YOUTUBE  .  LINKTREE
BOSTON, Mass. [August 18, 2023] -- Kooked Out want to be your soundtrack to summer, all year long.
The eclectic Boston band, formed out of the small town of Stoneham and led by the core duo of guitarist and vocalist John Fiore and drummer and vocalist Chris Laskey, shift the season into overdrive with the cassette release of kaleidoscopic debut album Vis Viva on Friday, August 18, the same night they play The Worthen Attic in Lowell with a full five-piece band. 
The act of taking Vis Viva and popping into a cassette deck – in the car, in the bedroom, or in a Walkman to head out and hit the town – is a symbolic gesture come to physical life. That throwback feeling of listening to music the way most of us did growing up is a callback to better times. And that chiller, care-free feeling permeates Kooked Out's sound – a combination of indie, surf-pop, alternative, blues, punk, reggae, and whatever else sounds good in the band's colorful musical cauldron. 
Over the past several months, Kooked Out – named after Kai the Hatchet-Wielding Hitchhiker's viral video interview from 2013 – have been riding a wave unlike any that crashes down on a Massachusetts beach, with a cult-like following in national skate and surf communities. 
"We're not deliberately trying to combine different styles in an effort to be more unique or anything like that; it's more of an organic evolution of our musical and personal tastes," says Fiore. "Whether it be a fast and heavy punk rock song or a pretty acoustic ballad, we're constantly evolving and trying to learn our craft a little bit better than before. The same way we try to listen to music with an open mind we try to create from that same space. If anything, we hope that the listeners will come along on this creative journey with us and enjoy the variety of tunes, style, aesthetic and other non musical projects under the Kooked Out banner." 
In the spring the band advanced to the semi-finals of the Rock And Roll Rumble, a Boston music institution, and quickly hit the road down the East Coast in their "Kooky Bus," a band branded vehicle that falls in line with The Beatles' Magical Mystery Tour mixed with a bit of Ken Kesey and The Merry Pranksters and Tom Wolfe's Electric Kool Aid Acid Test. It's all very '60s. 
"Since losing our rehearsal room during the pandemic it's where we practice, hang and sometimes sleep if we're on the road," Fiore notes. "We got it a few years back in New Hampshire at a decent price and ripped out some rows of seats and paid our friend Mackenzie who's from our hometown of Stoneham to paint it. The whole bus idea stemmed from a toy Kooked Out bus a friend had given us which we still have. Once we saw that we said that's it we need a real school bus and the mission began. You can't help but feel like a kid on a field trip missing class for the day when you're cruising around in it, a feeling like all your dreams are actually kind of possible."
With the Kooky Bus gassed up and ready to roll, Kooked Out's tireless hustle and DIY spirit has them playing live all over New England, from impromptu busker pop-up shows to weekend gigs at Faneuil Hall Marketplace to the busy circuit of trusted rock club stages and local brewery patios. In June, their track "Vintage Ave" was used to soundtrack Thuro Skate Shop owner's Gabe Holm's "Ride With Rollerblade" promotional video. 
It's safe to say that Kooked Out are showing no signs of slowing down. And now they have the tape to prove it, giving the band a bit of permanence in this digital landscape. The artwork for Vis Viva was created by local artist Nicole Errico, and it depicts a human figure on an alien planet, looking back to Earth as a giant wave swells beside her. It's an image that demands to be on a physical album release. 
"We're psyched to put this album out on cassette," admits Fiore. "Even in a digital age it just wouldn't feel right to us without a tangible copy of the record that you can grab a hold of and put into your collection. Growing up we always preferred and loved the ritualistic element of going home grabbing a record, a CD or a cassette tape and putting it on and really actively listening to it. You know, you're looking at the artwork, the track listing and lyrics, all of which becomes equally as important to you and your experience with that album. You can see it from across the room and know exactly what it is and that's what we wanted to do with Vis Viva."  
Led by breakout tracks like the rambunctious party anthem "The Weekend" and "Apache," a surf-pop cover first made famous by The Shadows in 1960 and written by Jerry Lordan, Vis Viva is an energetic and boisterous album. Its 13 tracks run a gamut of styles, but it's all tied together by Fiore and Laskey's overarching vision, and deeper cuts like "Fairweather" and "Soma Daydream" showcase a wider sonic spectrum that appeals to the indie rock crowd as much as the extreme sport scene. Its title, Vis Viva, doubling as the album's fuzzed-out opening number, is the glue that holds it all together. 
"When we were searching for a title for the album we stumbled across the term Vis Viva in a physics book in the bargain rack of Barnes & Noble," says Fiore. "I was casually flipping through this book and that term immediately caught my eye, sounded and looked great on the page and I'd never heard of it or heard anyone mention it before. Once I found out that it was an early term used for kinetic energy I fell in love with it and the idea of our album being a collection of various energies." 
Fiore adds: "The title not only gave us permission to go anywhere musically and lyrically but it also influenced us to explore deeper into everything we were doing as a band. On this record you'll definitely find a few fun anthemic songs but you'll also find some dark emotions dressed up in catchy melodies that are easy to miss the first go around. Creatively, the record is a good representation of our mix of styles."
Recorded with engineer Matt Blanchette of Revelry Studios, and mastered by Nick Zampiello of New Alliance East Mastering, Fiore and Laskey tried to harness their unbridled live energy – evident at any Kooked Out gig, whether it's just the duo or with the full band – and put it down on tape. Literally. 
"It's always tough to capture the wild energy of the live show on record and it's still something we're striving to do better," Fiore notes. "Allowing the songs to breathe by leaning into the rooms mics in the studio is something we like to do and would like to do even more of going forward. Playing at the same time is our favorite and most effective method of achieving a more live energy …On record you're either playing to capture the energy and emotion or you're playing to capture perfection and it's very rarely both in our opinion. I'm sure there's a million examples of both methods working out great though but our favorite records were usually made in that way." 
In the meantime, Vis Viva provides a snapshot of Kooked Out in 2023. But that snapshot is a bit blurry, simply because the band has a hard time standing still. It's in their attitude, spirit, and ethos – like Holm cruising down an alleyway on wheels, or a surfer riding a wave to perfection. Kooked Out aren't trying to sound like this or that, they're just doing what instinctively comes natural, and trying to push the boundaries of what a band can be. No matter what the season.   
"We're always looking for other musicians to play with and fill in for shows and maybe even collaborate with in any style, we just love writing and playing music," Fiore concludes. "We grew up loving metal and punk probably because of the rebellious nature and energy of the music and we want to carry at least a little of that into what we're doing now. Our brand of 'Kooky Pop' is coming one way or another, and as long as we're honest with our music, we hope some people either relate or get some sort of enjoyment out of it. We're just gonna continue to do what we do and hope that authenticity ages well." 
Media Contact: Please direct press inquiries to Michael Marotta at michael@knyvet.com,
and contact Kooked Out at kookedoutband@gmail.com. 
***
Kooked Out is:
John Fiore: Guitar + Vocals
Chris Laskey: Drums + Vocals
***
'Vis Viva' production credits:
Recording Engineer: Matt Blanchette of Revelry Studios
Mastering Engineer: Nick Zampiello of New Alliance East Mastering
Album Cover Art: Nicole Errico
Bus Art: Mackserva (Mackenzie Conserva)
Cassettes: Info Tech Media (Get Tapes Here)
Photography: Christine Paige Photography
***
'Vis Viva' artwork + cassettes: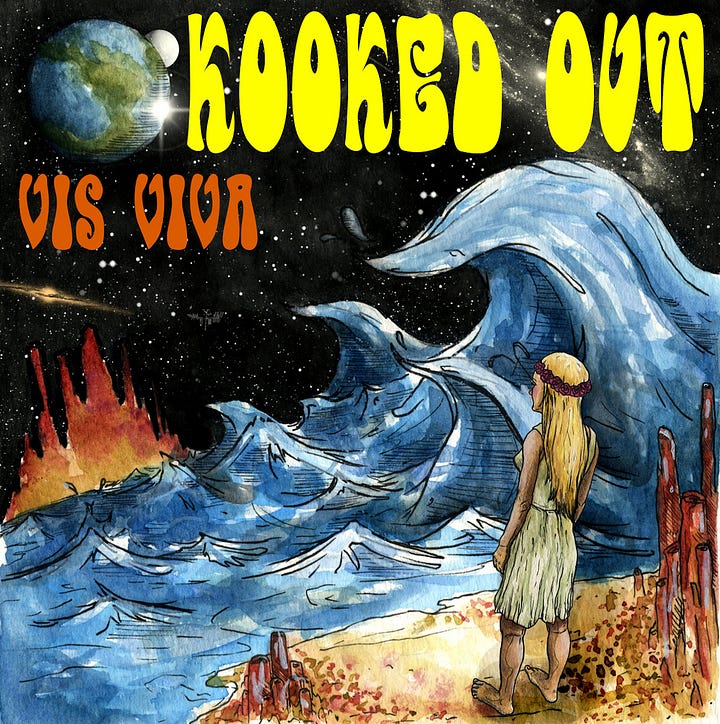 ***
Kooked Out short bio:
Kooked Out is here for the good times. Emerging from the Massachusetts town of Stoneham, the band's animated and eclectic rock and roll – a combination of indie, surf-pop, alternative, punk, reggae, and whatever else sounds good in the band's musical cauldron – belies its sleepy small suburban town origins. With a tireless and ambitious live calendar, Kooked Out could as easily be found busking across the streets of Boston the afternoon before playing across the city's rock club circuit by night. Their genre-spanning sound, drawing influences from the 1930s to now, has become a calling card, both on record and live on stage, appropriate for a creative outlet that cites its top influences as Chuck Berry, The Beatles, Jimi Hendrix, Dick Dale, The Black Keys,  Cage The Elephant, and Blink-182. In 2022, Kooked Out self-released its emphatic debut album, Vis Viva. The record's response – as well as the band advancing to the semis of the 2023 Rock And Roll Rumble, and a growing organic fanbase around New England – led to its re-release on cassette in Summer 2023. 
***
Kooked Out's Kooky Bus:
***
Media praise for Kooked Out:
The music of Kooked Out can be heard on Almost Famous on WATD, Banks Radio Australia, Boston Emissions, BumbleBee Radio, Catching a Wave Radio, Code Zero Radio, Mark Skin Radio, Music Box Pete, ROCK 92.9 FM, The River 92.5 FM, UncertainFM, Who I Am on Wave Radio Boston, and other fine stations, shows and platforms. 
"A frenzied fan base awaited Kooked Out as they commanded the headlining slot of Night 1 with an electrified reggae-meets-funk-meets-ska-meets-rawk hybrid sound that began with the title track from recent album Vis Viva and continued through new school anthems like 'The Weekend', 'Like We're 21', and more!" _Rock & Roll Fables' Rumble reviews
***
Press Contact: michael@knyvet.com
Band Contact: kookedoutband@gmail.com
HOMEPAGE  .  SPOTIFY  .  BANDCAMP  .  INSTAGRAM  .  FACEBOOK  .  TWITTER  .  YOUTUBE  .  LINKTREE